< Back to Blog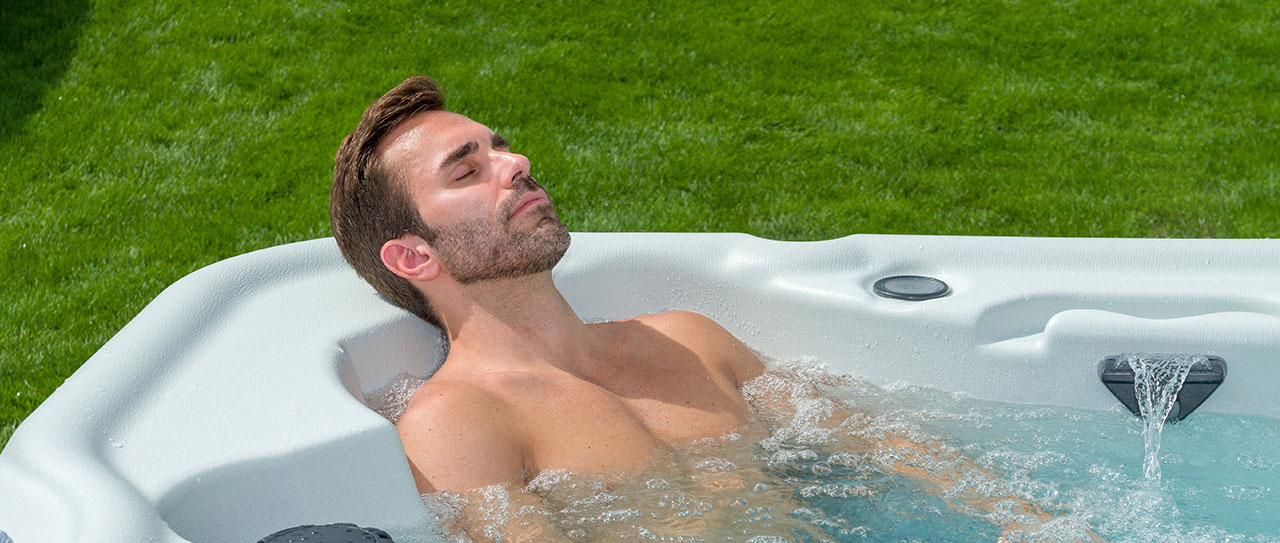 T is for Therapeutic
Whether your hot tub 'soak-sesh' is an afternoon with family, a relaxing evening with friends or a romantic interlude with your S.O., all provide wonderful therapy to improve your quality of living.
You already know how relaxed you feel after just 15 to 30 minutes in your tub. However, you may be surprised to know that hot tubs are also prescribed for people suffering from chronic ailments like Type-2 diabetes, arthritis, fibromyalgia and high blood pressure. Not only do hot tubs have a positive effect on these ailments, they also generally benefit your overall health in at least 4 ways.
Physical Benefits
Immersion in a whirlpool or hot tub is hydrotherapy for your entire body. Nordic's DTS™, Dual Therapy System, offers a unique combination of high volume whirlpool water flow and targeted direct pressure jet massage to give you the ultimate in hot water therapy. Jet massage coupled with warm, moving water works to alleviate tension from muscles and move your whole body into a state of relaxation. This combination therapy relaxes your breathing, increases circulation and helps your body detoxify. (Find out more about DTS™ here)
Psychological Benefits
As your body and breathing relax, the brain is triggered to release hormones such as dopamine and serotonin. These are the 'feel good' hormones which help reduce feelings of anxiety, stress and depression. Chances are you will exit your hot tub feeling emotionally lifted and in an improved state of mind.
Chronic pain, or even temporary pain from a strain or injury, can take a toll on you mentally, physically and emotionally. While physical pain is relieved by the feeling of weightlessness and gentle water massage your mind is also given relief from thinking about the pain. This creates a perfect opportunity to practice holistic meditation or just enjoy a delightful respite from the cares of the day. Your body is aided in recovery while your mind and spirit are refreshed and renewed.
Soaking in a hot tub also increases your core temperature. When you step out of your hot tub, your core temperature begins to drop, creating the same natural process as when your body is preparing to sleep. Combined with relaxation and pain relief, your body can now achieve a deeper and more prolonged sleep. And, with improved sleep, you feel less stressed and are more able to cope with daily situations.
Health Benefits
As we mentioned earlier, hot tubs can be very beneficial to people suffering from Type-2 diabetes, arthritis, fibromyalgia and high blood pressure. That said, we strongly recommend anyone with a medical condition consult their medical professional before using a hot tub. If your doctor gives the all-clear, the use of a hot tub can be a wonderful part of a healthy lifestyle.
Other issues hot tubs can help with are reducing stress and stress related ailments such as headache, body ache and stiffness. Spending time in a hot tub is also therapeutic for arthritic patients to help loosen up still joints and muscles and relieve pain.
Aromatherapy
Combining your hot tub hydrotherapy with aromatherapy is an effective way to gain even more benefit from your soak session.
Fragrances stimulate olfactory senses which influence areas of the brain controlling memory, temperature, sleep, alertness, stress and metabolic processes. Depending on which scent you choose, your body can be energized and refreshed to begin your day or relaxed and de-stressed at the end of your day.
While there are many fragrance and water conditioning options to choose from, one thing to remember is that hot tub water is a balanced, filtered water system. We strongly encourage you to use products specifically formulated to work in tandem with your filtration and water balance or you risk destabilizing your water, damaging your filter and potentially putting your warranty at risk. (Find out more about water chemistry here)
As you can see, owning a hot tub can greatly benefit your health and well-being. Let's get you on your way to enjoying the Nordic Difference today!
This is the second in a series of blog posts where we examine the four pillars of our S.T.A.R. philosophy: Simple, Therapeutic, Affordable, Reliable. These posts are intended to explain our 'why' and to help you in your decision to purchase a hot tub. If you have questions about how a Nordic Hot Tub can benefit you, we have a dealer nearby who can help! Use the Find A Nordic Dealer Partner button (above) and let us Turn Your Day Ah-h-h-h-round!