< Back to Blog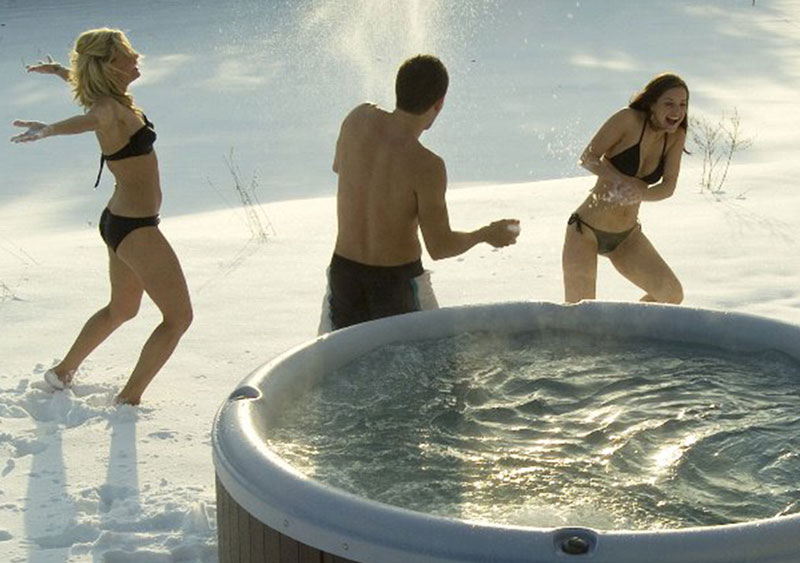 How to Enjoy Your Hot Tub in the Winter
For those of us who live in cold climates, the winter season makes up the majority of the year, so we need to enjoy it! Wintertime doesn't always mean staying bundled up in the house watching Netflix. The winter (for us hot tub owners) can mean slipping into our swimsuits, grabbing something hot to drink, and settling into your Nordic Hot Tub!
Some of the best times to soak are during winter months under the snowy sky. Here are a few tips for your winter hot tub session.
1. Clear Away the Snow & Protect Your Cover
Keep your hot tub cover clear of snow. You don't have to brush off every flake, but accumulated snow may compact, making it dense and heavy. Our covers are sturdy and built to last, but heavy snow and ice can cause damage to the inserts and strain the hinge. Be careful not to damage the vinyl "skin" of the cover when clearing the snow!
2. Drain & Refill Early
Before winter hits, be sure to drain and refill your tub to avoid frozen pipes. Doing so in temperatures below zero could put your tub at risk.
Pro-tip: Turn off your air valves when it's cold out. While the air valves increase the pressure of the jets, they can pull in colder air from the outside causing the water temperature to lower.
3. Stay Warm & Hydrated
Wear a hat! When it's cold you want to keep your body temp regulated. Wearing a hat will help regulate your temperature and keep your ears warm, just as if you were working outside in winter. It's also important to stay hydrated, which is good advice anytime! However, when you soak in a hot tub, you can perspire so it's best to keep yourself hydrated!
4. Create a Warm Path to your Hot Tub
If a potentially cold path to your hot tub is deterring you from spending extra time soaking this winter, a heated mat is just what you need to elevate your hot tub experience. Set-up your heated pads and let them do the hard work of removing the snow while you enjoy a warm path to your hot tub. For more information, check out this heated mat on Amazon.
5. Soothe Sore Muscles after Winter Sports
There is no better way to end a long day skiing or snowboarding than soaking in a hot tub. Continue to enjoy your beautiful surroundings engulfed in hot water, or heat up and recover inside. Either way, your body will thank you! Hot tub use post-activity can help improve circulation, help with injury prevention or management, and massage sore and achy muscles so you can hit the slopes again tomorrow.
Get the most out of your investment by following these tips, and start using your Nordic Hot Tub in the winter. If you have any additional questions or need guidance choosing the perfect tub for you, find your local dealer today.