< Back to Blog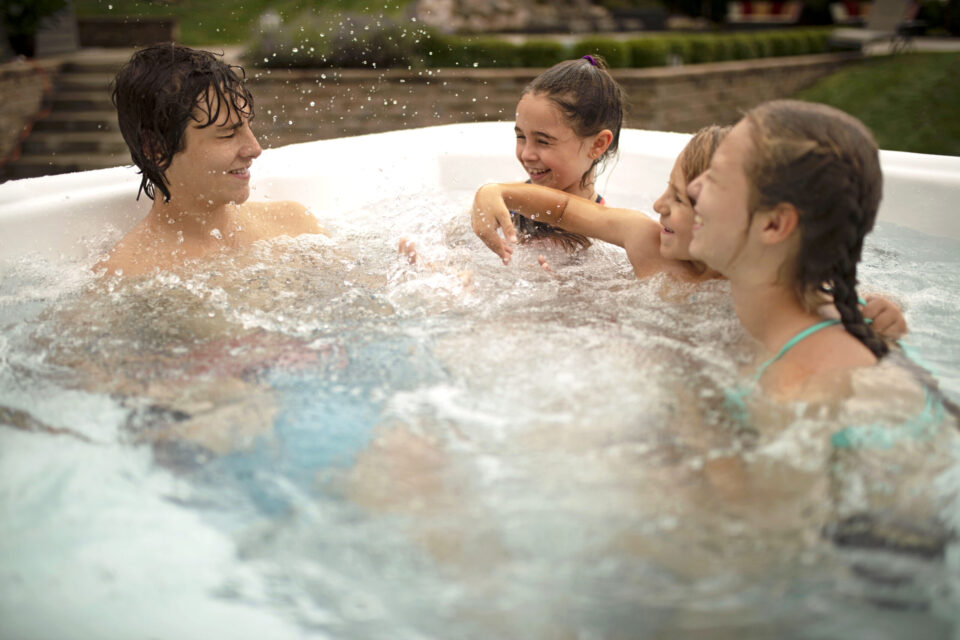 Safe Hot Tubbing with Children
As  a  hot  tub  owner,  safety  should  stay  at  the  forefront  of  your  mind.  You  want  to  make  sure  everyone  using  your  hot  tub  not  only  has  a  great  time,  but  stays  safe  in  and  around  your  hot  tub!  This  is  especially  true  for  children.  Here  are  a  few  Hot Tub Safety Tips  from  the  PHTA,  Pool and Hot Tub Alliance to safely hot tub with kids!
"Infants  and  toddlers  under  two  should  not  be  permitted  in  a  hot  tub  at  all  as  babies'  thin  skin  makes  them  more  susceptible  to  overheating.  Also,  since  little  ones  have  very  little  control  over  bodily  functions,  spas  become  unsanitary  almost  instantly  when  'accidents'  happen."
Additionally,  "No  young  child  should  be  allowed  in  a  hot  tub  until  they  can  stand  on  the  bottom  and  have  their  head  remain  completely  out  of  the  water.   Children  who  are  big  enough  to  be  in  a  hot  tub  should  not  use  it  for  more   than  five  minutes  at  a  time,  especially  at  the  maximum  temperature  of  104   degrees.  Dropping  the  spa  temperature  to  98  degrees  would  allow  for  longer  soaks  –  but  never  more  than  15  minutes  at  a  time.  It  is  also  recommended  that  young  children  avoid  full  body  immersion,  choosing  instead  to  sit  on  "jump  seats"  that  some  spas  have  that  permit  waist-high  immersion."
"All  persons,  and  especially  young  children,  should  be  encouraged  to  drink   fresh  water  while  they're  soaking.  If  the  bather  feels  sick  to  their  stomach,   dizzy  and/ or  sleepy,  they  should  exit  the  spa  immediately."
"Responsible  Adult  Supervision  is  Key  to  Child Pool,  Hot  Tub  Safety  and  Water  Safety.  There  should  always  be  an  adult  designated  to  maintain  constant  visual  contact  with  children  whenever  they  are  near,  or  could  get   near,  any  body  of  water."
Lastly,  be  sure  to  keep  your  hot  tub  covered  and  locked  in  place  when  not  in  use!  Be  safe,  not  sorry.  We  wish  you  many  happy  hours  of  SAFE  hot  tubbing  in  your  Nordic  Hot  Tub!
For other helpful resources, check out Nordic's list of Blogs or request a quote!